Level 4

Posts: 340
Joined: Sun May 05, 2013 2:32 pm
Location: Merry Old England
Contact:
Imported to Holland from Florida... Imported to England from Holland.... The "Granada" they got was a different animal
I highly doubt it has a wooden dashboard. It is probably as wooden as my 76 Capri II's was, plastic with a wood grain sticker.
David Reese

88 XR4Ti - mono white T5, someday to be bi wing
89 Scorpio - waiting on some parts before it hits the road again
88 XR4Ti - mono red C3, parts car
used to own 86 dark blue traded in on a min van, what was I thinking?
Level 4

Posts: 340
Joined: Sun May 05, 2013 2:32 pm
Location: Merry Old England
Contact:
To me, when I think of American cars I think of cars like this, big comfortable gas guzzlers with soft suspension
Level 2

Posts: 128
Joined: Sat Nov 01, 2008 7:47 pm
Location: ancaster, ontario
Contact:
i still remember this ad from 35 years ago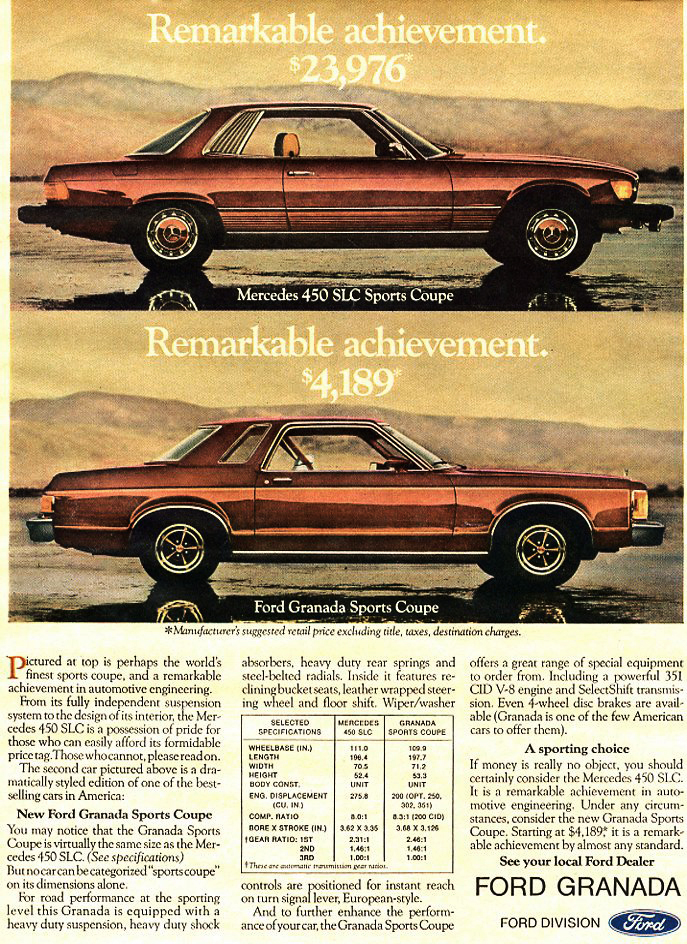 Level 4

Posts: 340
Joined: Sun May 05, 2013 2:32 pm
Location: Merry Old England
Contact:
Great advert, thanks for posting