Merkur....Its German for Mutt....Mustang, Saab, Volvo, Lincoln, Contour, Cummins... and the list goes on.

Jeremy Kemp

1988 XR4Ti Chestnut Brown/Spice Leather
MC2 Coilovers and Bushings, Contour Rims and Rotors, Ported Motorsport Head, Cosworth 4x4 Intercooler, Holset HY35 Turbo, 80LB Injectors, Megasquirt2 EFI
---
If you happen to be in a barns and noble or other bookstore take a look at the new issue of Motorsport magazine. There are a few great articles on the RS500. One has an interview with with Andy Rouse and Steve Soper. Rouse and Soper give some great insights on what it was like to drive these beasts in race trim. Rouse also revealed that their car actually went back to the stock rear spring mount location as opposed to the coilover that ford had recommended for the Motorsports prepped sierras. He claimed that that on their car it actually gave them more traction. So if you get a chance it's a good read, the Merkur of Rouse makes a brief appearance in one photo too.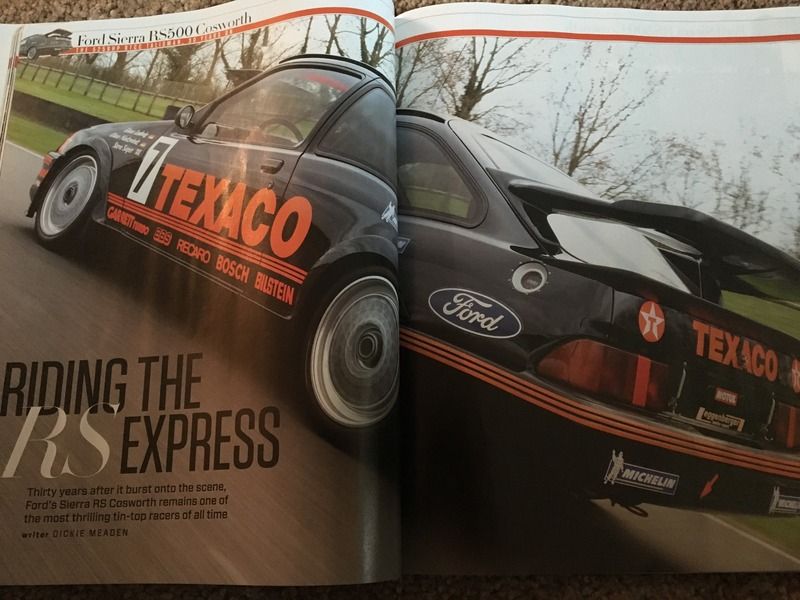 Merkur....Its German for Mutt....Mustang, Saab, Volvo, Lincoln, Contour, Cummins... and the list goes on.

Jeremy Kemp

1988 XR4Ti Chestnut Brown/Spice Leather
MC2 Coilovers and Bushings, Contour Rims and Rotors, Ported Motorsport Head, Cosworth 4x4 Intercooler, Holset HY35 Turbo, 80LB Injectors, Megasquirt2 EFI
---
Level 8
Posts: 7089
Joined: Thu Sep 04, 2003 5:53 pm
Location: The Belly of The Beast
From the article:
"Indeed, it pootles along rather nicely."
Pootles... Gotta luv BritSpeak.
Descartes: "Cogito Ergo Sum"
Lijewski: "Sum Ergo Drive-O. Mucho!
---