John Brennan wrote:
Top pic (engine) has four outlets; enlarged part pic has three.

It seems these options presuppose the removal of the loop to the oil regulator and its associated input from the lower intake. All create new issues to resolve for every one they eliminate. It would seem to me that unless you're eliminating the valve altogether, your best bet is the stock part.
There is a fourth outlet behind the servo, which you can't see.
Here is another view:
Whether or not you remove all the other stuff in the area is really immaterial - the factory valve is a two in, two out - it's either open and sending coolant through the core, or closed and sending it right back out. Not rocket surgery.
Another approach would be do something like some European brands, and use an electric pump to siphon coolant from somewhere and then return it later. The one on my Jag is a two in, two out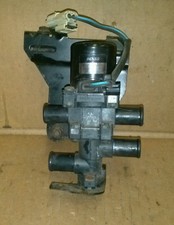 Astronomically expensive new, but they are pretty reliable and fairly readily available in the junkyard.
Others are one in, one out:

When the pump isn't running, little to no coolant goes through the core. You can dead-end a feed to the pump and return it mostly anywhere on the return (suction) side of the system.