so im drivin on the highway for about 20 mins and then i start noticing a lil smoke out the shifter boot which is smelling like burnt oil in my opinion. I immediatly pulled over to see if i was dripping anything but didnt see anything i know i need a valve cover gasket. And maybe its leaking in the rear portion onto the exhaust. But maybe its comming from the rear main seal onto the clutch right? If that was the case would the clutch be slipping at the same time? This is def concerning me cause of the reported fires in the merks..
The last time that happened to me it was the tailshaft seal on my T-5. It created quite a smoke show inside and outside the car.
not unless it was really bad. I needed a rear main seal in my GT for a long time and had no problems with my clutch.
1986 Escort GT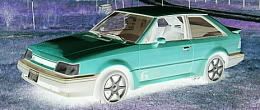 im like 99% percent sure it was the VC gasket mainly cause there was oil down the side of the block and directly above it was a piece of the cork VC gasket sticking out.. so changed it with a ford oem one and now i just keep an eye out...