First there was this:
http://forum.merkurclub.com/forum/viewt ... 30&t=32524
which in retrospect was probably not primarily a vacuum problem but primarily a physical turbo problem in early failure mode.
Then there was this:
http://forum.merkurclub.com/forum/viewt ... 30&t=32840
which in retrospect was definitely not valve stem seals, but turbo in early failure.
So now I'm at full turbo failure without a real explanation. The turbo is a genuine Turbonetics T3/T4 .63 trim that has not really done much. It's maybe five years old, with a cumulative 10,000 miles
max
on it. They do good stuff, so I'm surprised it'd fail so young and it makes me think there is an external cause...
By the same token, I'm pretty confident it's not an oil feed problem... I am running the factory steel line, but the original turbo did ~200k (it was replaced at ~90k) without issue... the only reason I replaced it was moar boost. Still a possibility. Same goes for the drain tube... What are the chances two parts would become unusable after ~10k with nothing but synthetic oil running through them? I think low. I've read that a bad PCV system can pressurize the crankcase to the point oil has a hard time returning, but the PCV system seems very healthy and while the engine does have 300k on it, I've not observed any symptoms of blow-by.
All this stuff is worth a check. I'll pull off the turbo oil drain this weekend. I am 99% sure I'm going to replace the oil feed with -4 AN hose. I'll do a 1/4" NPT to -4 AN adapter at the head and stick one of these on it: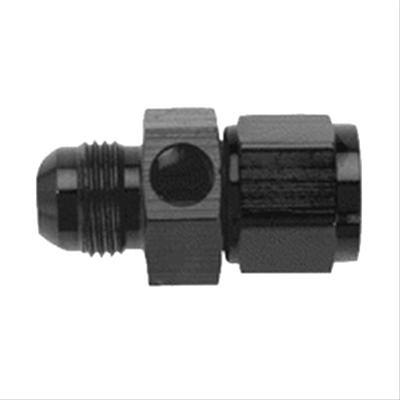 Just a -4 AN male to female with a 1/8" NPT port in it. The factory oil pressure sensor is 1/4" NPT, but since it's a simple open/close switch it's easy enough to replace. The factory switch opens at ~6psi, and an Airtex 1S6707 does the same thing with a smaller thread. Good enough. T3 oil feeds with AN threads are easy enough to find. I do realize there are prefab options (Stinger, etc.) but I just have a really hard time putting brass plumbing fittings under my hood. I don't go in for bling, but I draw the line at household plumbing.
That leaves only the turbo... unfortunately the only local speed shop I'd trust for turbos packed it up a long time ago, so it's going to be mail order. The place I used to go - Performance Techniques - hasn't updated their website in 10 years, and that's not reassuring. I'll keep poking around, see what I find.