I am about 90% done with this project.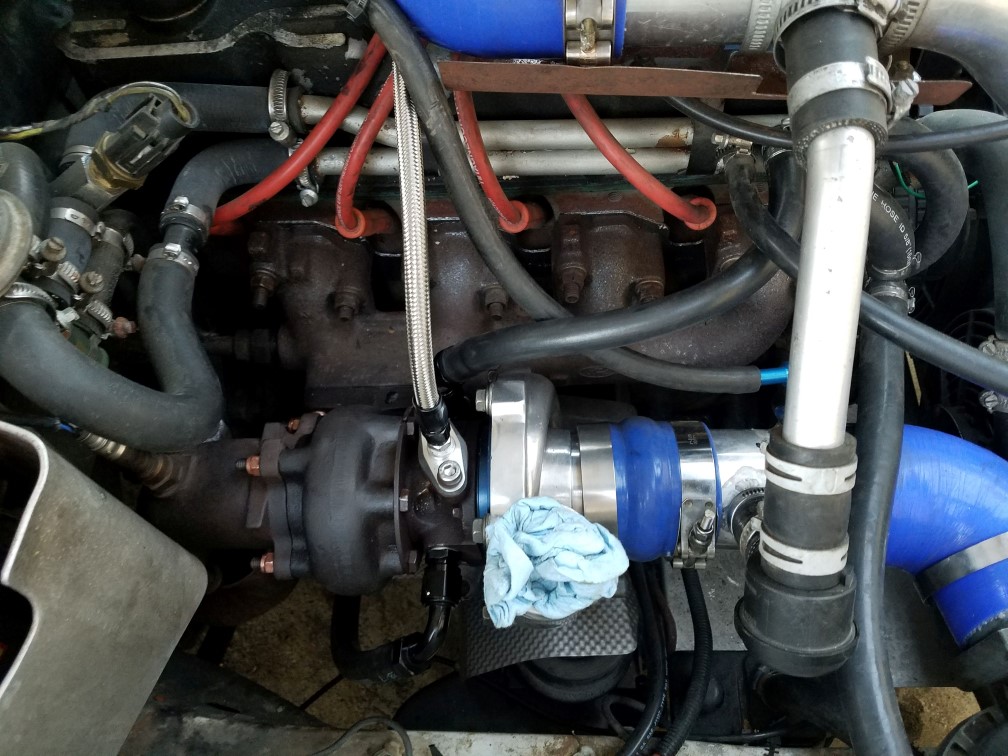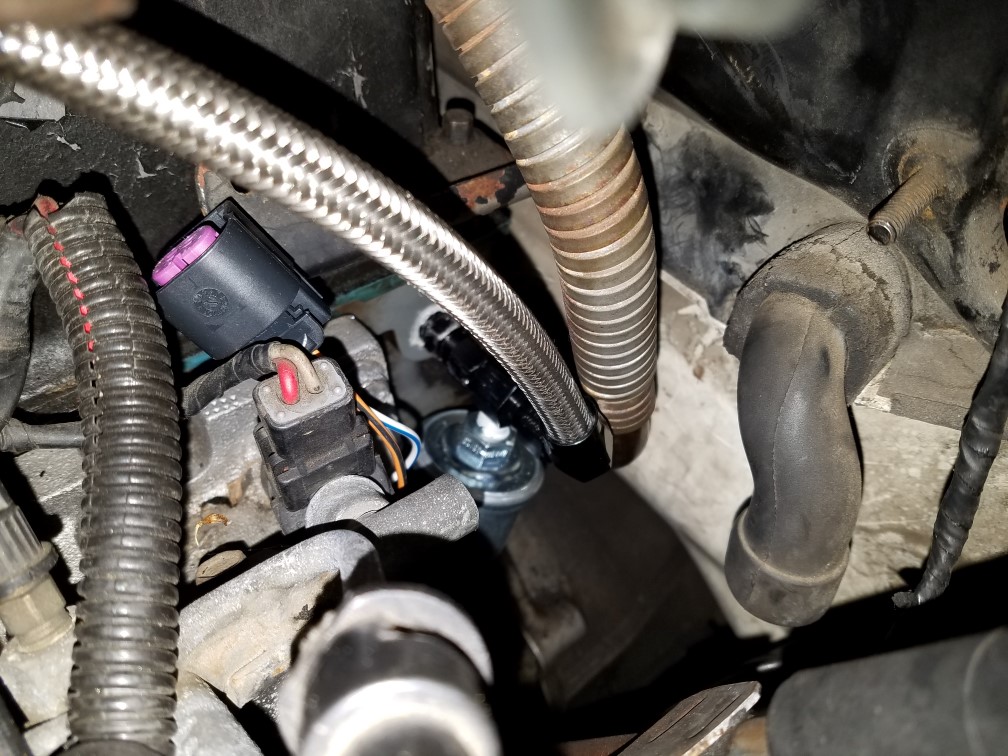 What I've got:
1. Turbonetics hybrid turbo, which I believe is a T3/T04B. It has a ball bearing center section, but I have no idea what the turbine or compressor specs are. I did call Turbonetics, but they couldn't tell me. Ultimately it doesn't matter - it's bigger than stock and probably smaller than what was there (which was a T3/T04E) and it's not damaged - and I like all three of those things.
2. I replaced the oil feed and oil pressure sensor. Out of head is a 1/4 NPT to AN -4 adapter, then the AN -4 sensor takeoff I posted earlier with a VDO sensor installed. Braided AN -4 hose travels across the head, parallel to the plug wires to the turbo. I used an ATP oil feed flange adapter (this turbo did not have a threaded oil inlet) with an ATP oil pressure restrictor to prevent windage in the center section. There was nothing obviously wrong with my factory oil feed, but since I had turbo troubles I had to suspect it, I needed a clean way to get that pressure restrictor installed, and I wanted to move the oil feed away from the exhaust manifold so I can built a heat shield... that's the 10% left to do.
3. The factory turbo oil drain was retained - it's in perfect shape. I did remove the fitting from the block and cleaned everything - but there was nothing really to clean.
4. I replaced the water feed to the turbo entirely - did it for a couple reasons. Primarily, I wanted to get rid of the silly "tube between two couplers" - it's just a lot of parts and four hose clamps per side. Secondarily, I needed to move the water feed away from the exhaust manifold for my heat shield. I used AN -8 Russell Twist-Lok hose here - the water pipe on the side of the head is 1/2" and AN -8 is half inch, so, well, duh. The Twist Lok is clamped to the pipe using an Oetiker clamp - it's not going anywhere without a Dremel. At the turbo, the Twist Lok is terminated with a 45 degree AN -8 fitting attached to a 16mm banjo -> AN -8 adapter bolted to the turbo. This creates a *little* space between the water feed and the exhaust manifold flange, but honestly less than I'd hoped. Still, it improves access to that top flange nut, and I'm stoked about that.
5. The water drain from the turbo uses an 16mm -> AN -8 adapter, a short hose made from the same Russell Twist Lok as the feed, and a 1/4" -> AN -8 adapter in the block.
So I've got a new turbo, new hardware, I turned eight hose clamps into one, got a sensor to drive an oil pressure gauge, and I cleared room for an exhaust manifold heat shield. I'd
rather
the turbo hadn't failed, but OTOH I feel like a lot of improvements were made. Hopefully I can get back to driving it this weekend.