I need two master cylinders
thanks
Larry with Five XR4s and Two Scorpios
---
Level 4

Posts: 310
Joined: Mon Jul 15, 2013 7:58 pm
Contact the vendors on here. But they are hard to find. You may be able to get the adapter kit allowing you to use the thunderbird mc. Or rebuild kits for the original mc. Good luck getting what you need.
You can barbecue it, boil it, broil it, bake it, saute it. There's shrimp kabobs, shrimp creole, shrimp gumbo, pan fried, deep fried, stir fried, pineapple shrimp, lemon shrimp, coconut shrimp, pepper shrimp, shrimp soup, shrimp stew, shrimp salad, shrimp in potatoes, shrimp burger, shrimp sandwich....
---
They are getting hard to find, I had a heck of a time trying to get mine... but I think Jeff (Blugg) over at Merkur Parts Midwest is back in stock of the later (88/89) MC.
-Ryan Dunham
1989 Merkur XR4Ti - nickname: "SheaXR4"
Daily: 2016 VW Golf R
Old daily: 2003 VW Golf MkIV TDI, 200k+ mi

"Racing is Life. Anything else is just waiting." -Steve McQueen
---
I have one on my shelf (not for sale) that NAPA rebuilt for me. Check with your local NAPA and see if they'll rebuild yours. It will take a little while but at least you have some recourse.
1987 5-speed XR4ti-70K mile "barn find", Rosso Red, Grant wheel, short throw shifter, PE/big VAM, 255lph pump, 3" Stinger/Magnaflow exhaust, MD "shorty" radiator/IC, fake BBS wheels, Koni Yellows, Rapido sway bars, poly/aluminum bushes, Gillis valve,
---
Level 4

Posts: 395
Joined: Sun Jun 07, 2009 10:20 pm
Location: Suffolk, VA
Contact:
Time for a Scorpio hydraulic MC...... you're welcome.
A man meets another addict and says "oh yeah, I have a Merkur too!" and the other man says "no way!!!!! ............how many?"
---
Level 8
Posts: 5932
Joined: Tue Jan 21, 2003 4:29 pm
Location: Northeast Ohio
Contact:
If you're still in need of one...
https://www.ebay.com/itm/NEW-NOS-Ford-1 ... 2885227624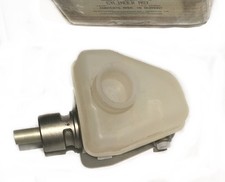 ---
ford.scorpio

wrote:

↑

Thu Mar 14, 2019 2:26 pm

Time for a Scorpio hydraulic MC...... you're welcome.
This is the best way to go...Second best would probably be to get the rebuilt unit from a vendor.
---