Hey guys, long time no see...thought i'd stop in and post a video of a local guy's Pinto he's building. I posted pics of this a long time ago...it's an old 2.5 block stroked to a 2.7 with if i remember right something like an 80mm turbo...it's ridiculous, i can't even tell you half the specs but they're talking 800hp estimates.
http://www.youtube.com/watch?v=8pp6DhvtPk4
I've never in my life heard a 4 cylinder sound as nasty as that...if i didn't know better i'd think that was a V8.
Here's a couple pics off his progress thread...it started out as an '80 Pinto with 25k original miles.
Here's a quote from his thread:
Engine setup. Its a Ford "2.3" liter. Some might be familiar with Fords tall deck blocks. Thats what we have. Its a 2.7 liter in its current state, o-ringed, scat crank, crower billet rods, weisco pistons, all custom built to our specs. The head is an Essengler ARCA head, with their .620 lift turbo cam. Solid lifters, big valves, etc.

We decided to go with an external wet sump oiling system. The header is an equal length and equal degree of bending withing 0.25" and 15 degrees on every runner. The intake is a unit designed to be 2.5 times the engine displacement.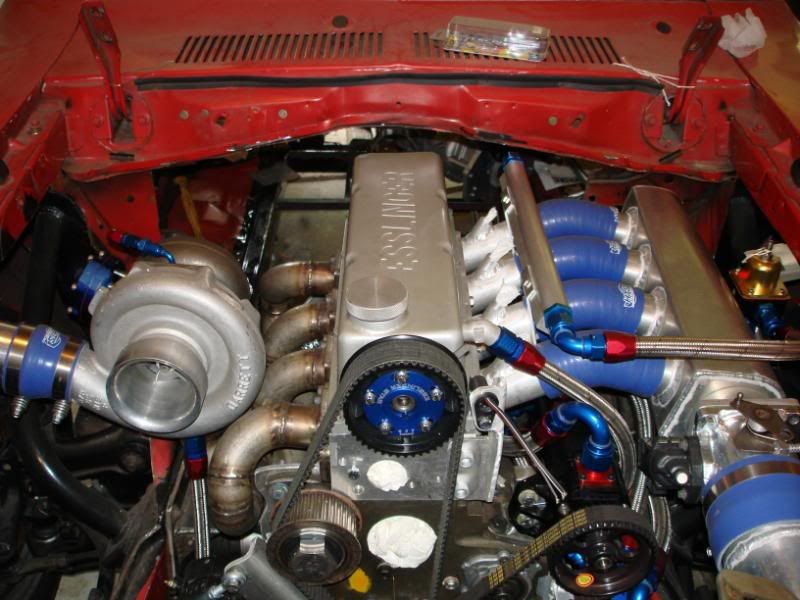 We originally set for a 2500 lb weighty target, but from the way the cage spiraled out of control, to almost a tube frame back halfed car, we think it might be a bit over that, maybe 2700.

The hp we're expecting to hit is 800 hp to the wheels. The turbo pictured is a T70, which we're using as our "break-in" turbo, then we'll be stepping up to a larger turbo once we get the car mostly dialed in. I think the first year will be mostly a learning curve as far as getting the 4 link dialed in and the car launching straight. Then we can worry about putting more power down.
I'm not sure if you have to be a member or not to view the progress thread but here's a link with all the pics...it might be worth registering just to see it if you like this sort of build. The coolest part is that most of the car is owner fabricated.
http://www.stangbangerz.com/forums/show ... hp?t=34034